Extendicare Celebrates 50 Years of Helping People Live Better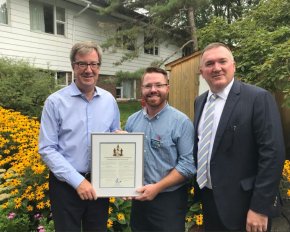 MARKHAM, ONTARIO, August 21, 2018 – Extendicare is celebrating 50 years of helping people live better with celebrations across the organization.
During the month of August, celebrations were held across the country to mark Extendicare's Golden Anniversary. In Ottawa, Mayor Jim Watson and Extendicare's CEO, Tim Lukenda participated in festivities at New Orchard Lodge, our first home. These special guests joined residents, staff and their families in a carnival complete with animals, snow cones and dunk tank.
"Today we are here to celebrate 50 years of being leaders in seniors' care, to celebrate our communities and the people who live in them and to celebrate our team members who create an environment where these outstanding residents can thrive," said Lukenda. "I am confident that the future holds great promise and opportunities for growth for us and look forward to another 50 years of success, growth and providing the best quality care to our seniors."
At the company's corporate office in Markham, Ontario, over 200 employees participated in sixties themed events (since we were incorporated in 1968). There were also picnics, barbeques, old car shows and tea parties in other locations from Toronto to Calgary. The ParaMed locations in Alberta extended a challenge to their team members to complete "50 Random Acts of Kindness" in the community to honour the celebration. Lucky people across the province were treated to free coffees, special goodies, extra smiles and more courtesy of our ParaMed team.
Extendicare has launched a special website to share more information about our history and to promote the remarkable moments that we've created during our 50 years! Check it out at www.extendicare50.com.
About Extendicare
Extendicare is a leading provider of care and services for seniors throughout Canada. Through our network of 120 operated senior care and living centres (67 owned/53 managed), as well as our home health care operations, we are committed to delivering care throughout the health care continuum to meet the needs of a growing seniors' population in Canada. Our quality and highly trained workforce of 23,700 individuals is dedicated to helping people live better through a commitment to quality service and a passion for what we do
Media Inquiries:
Sofia Mavumba, Communications Manager
Tel: 905-470-5494
Email: smavumba@extendicare.com